Complete Story

09/05/2022
We Card Awareness Month
September 2022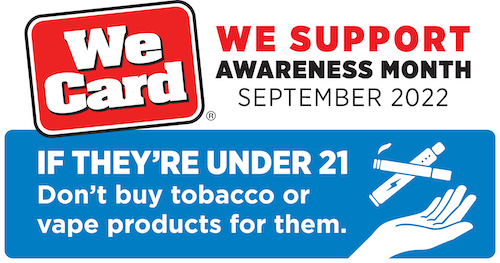 September is We Card Awareness Month, making it the perfect time for retailers to train or re-train employees and raise awareness of the U.S. Food and Drug Administration (FDA) regulations and state law compliance.
Resources available through We Card include:
We Card's 2023 materials (available to order) at www.wecard.org.
Award-winning training courses (Employee, Refresher & Manager) with gaming, role-playing and customer-cashier scenarios. FDA content & state law specific.
Download resources for federal 21-year minimum age law for tobacco and vapor products.
e-Cig and Vapor Central: from e-cig oriented signage to unique compliance needs, stay current on requirements of retailers for this growing age-restricted product category.
OWMA members are encouraged to share these resources with their retail accounts and remind them about the importance of continuing efforts to successfully identify and prevent age-restricted product sales to minors.
More Info
---